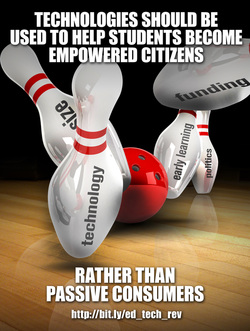 "The great enemy of the truth is very often not the lie — deliberate, contrived, and dishonest — but the myth — persistent, persuasive, and unrealistic."
~ John F. Kennedy
Blended learning, where students' face-to-face education is blended with Internet resources or online courses, has been gaining considerable attention in education reform circles. It has become entangled with the ambiguous notion of personalized learning and is being positioned as the new way to individualize learning in competency-based education systems.

Michael Horn, co-founder of the Clayton Christensen Institute for Disruptive Innovation, and a key proponent of blended learning, claims that it is the "new model that is student-centric, highly personalized for each learner, and more productive, as it delivers dramatically better results at the same or lower cost" (Horn and Staker 2011, 13).

To what extent is this a new model of learning in a digital age? How are private corporations employing old rhetoric to advance new avenues into public education? Most importantly, is blended learning becoming yet another overhyped myth on the crowded road of technology-as-education-reform panacea?